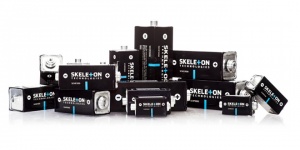 The €4m investment from KIC InnoEnergy – whose shareholders include ABB, EDF, Iberdrola and Total – will be used to further develop the competitive advantage of Skeleton Technologies' ultracapacitors. The company aims to reach 20 Wh/kg energy density for its technology by 2020.
Skeleton Technologies'  ultracapacitors use a patented graphene material -called carbide-derived carbon in their manufacture, which, claims a Skeleton, delivers twice the energy density and five times the power density of competitors' products.
The investment was pledged as part of the €9.8m Series B financing secured by Skeleton Technologies last year. With funds now in place, work will begin to develop electrodes that can fully capitalise on the performance advantages offered by CDC. These electrodes will then be integrated into smaller modules, reducing both the weight and cost of the final energy storage system.
When this work is complete, Skeleton  expects to offer three times the performance/weight ratio of current market leading products at the same price which accelerate the adoption of ultracapacitors across transport, industrial equipment and grid applications.
"Our main focus as a company is ramping up our current production capability. The KIC InnoEnergy investment will help us to retain a global technology leadership position for many years to come," says Skeleton CEO Taavi Madiberk.
In 2014, Skeleton Technologies opened a 1000 square metre pilot plant and launched its SkelCap series ultracapacitors.
Last June it received €9.8 million capital from institutional investors for further expansion.
Customers include global engineering companies, the European Space Agency and several Tier 1 automotive manufacturers.
The company employs 49 people, including nine PhDs.ultra