Sony's intention is to marry its sensor prowess with Altair's cellular capabilities to produce cellular connected networks for IoT.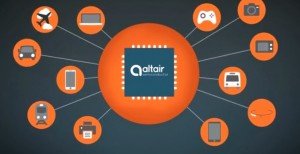 Ten year-old fabless Altair, founded by former TI execs, employs 220 people.
The company has raised $120 million in venture capital.
Sony writes:
LTE is already widely used in data communication for mobile phones, and is also expected to play a pivotal role in the interconnection of the Internet of Things ("IoT"). Going forward, more and more "things" are expected to be equipped with cellular chipsets, realizing a connected environment in which "things" can reliably and securely access network services that leverage the power of cloud computing.

With the acquisition of Altair, Sony aims to not only expand Altair's existing business, but also to move forward with research on and development of new sensing technologies. By combining Sony's sensing technologies – such as GNSS (Global Navigation Satellite System) and image sensors – with Altair's high-performance, low power consumption and cost-competitive modem chip technology, and by further evolving both, Sony will strive to develop a new breed of cellular-connected, sensing component devices.

With the markets for wearable and IoT devices expected to continue to expand, Sony aims to deliver component devices that feature both sensing and communication capabilities, as well as new LTE solutions that leverage the strengths of these component devices.
See also: Sony re-orgs devices group
See also: Sony MESH Tag plug-and-play prototyping comes of age