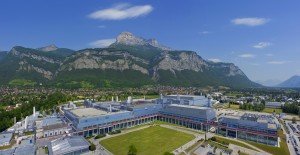 The decision involved the re-deployment of 600 French ST employees.
500 of these will go to the microcontroller and ASIC operation led by Claude Dardanne with 350 going to the microcontroller operation and 150 to the ASIC business.
The automotive and discrete components group (ADG) led by Marco Monti will take 60 people.
Dardanne and Monti told the Central Works Council that they will use the additional people  to pursue initiatives perspectives in the IoT and the connected car.
The remaining 40 people, who are to be redeployed, will be mobilized for specific projects according to the opportunities and needs of the group.
The 600 persons to be redeployed are spread over four sites: 162 at Le Mans, 47 at Crolles, 74 in Paris and 317 in Grenoble.
Le Mans and Crolles employees will be taken en bloc by  the Microcontroller activity led by  Claude Dardanne.  They will continue their current functions of software development –  but working on microcontrollers rather than STB ICs.
For people at other sites the transition will be less clear. The CGT union says it could involve a change in job function. If that is the case, the union says that in order to match skills with jobs, there will have to be training and retraining schemes to be negotiated between the unions and management by June 2016.
Part of the staff to be redeployed – between 150 and 200 people – will be maintained in support functions product for set top boxes and telecom gateways. They will be assigned to their new roles as and the natural decline of this activity.