ST sensors to protect American footballers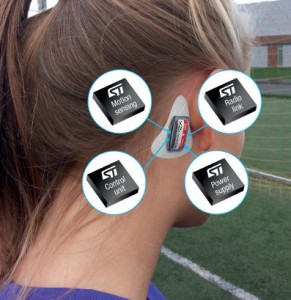 Following last month's $765 million payment paid out by America's National Football League (NFL) to 4,200 retired players suffering from Traumatic Brain Injury (TBI) players are to wear head impact monitoring patches developed by X2Biosystems using sensors from STMicroelectronics.
The NFL has mandated the use of the system, called X2 ICE, in all practices and games of all 32 teams this season.
X2 ICE captures athlete concussion history and pre-season neuro-cognitive function, balance, and coordinate-performance data, which is then used as a baseline for comparison after a suspected injury event.
The patches, called xPatch, which are smaller than a quarter, use ST's MEMS motion sensors, an STM32L microcontroller, a SPIRIT1 low-power radio transmitter, a miniature power-supply and battery-charging ICs.
The medical profession working in sports, military and industrial safety areas believe that better management of concussions can help prevent serious brain injuries, which can cause dementia and depression later in life. The brain can repair itself after most concussions if the condition is recognized and managed appropriately.
"The development of the xPatch would not have been possible without ST's advanced technologies. The xPatch integrates all required functions for head-impact monitoring, analysis, and wireless data transmission," says Christoph Mack, CEO of X2 Biosystems, "because it's so small and lightweight, it can be attached unobtrusively behind the player's ear – athletes forget they're wearing it within minutes."
The 4,200 footballers sued the NFL in 2011 and accepted the $765 million in settlement.
Last year, recordings emerged of New Orleans Saints assistant coach Gregg Williams telling players to deliberately injure opposing players before a game with the San Francisco 49ers. Saints who "hit the head" and knocked opponents from the game were awarded cash bonuses. Williams gave instructions on aggravating previous injuries to 49ers, including a player with a history of concussions. The scandal was dubbed "Bountygate." Williams, with head coach Sean Payton and others were suspended.
TBI is not confined to footballers. The World Health Organization forecasts that TBI will become the third leading cause of global death and disability for all ages by 2020.