Tabs vs Notebooks; Samsung vs Apple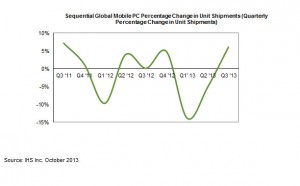 Although notebook PC shipments reached 47.9 million units in Q3, up 6% from Q2 the market was 5% down on last year's Q3, says IHS.
Q3 is the fifth consecutive quarter of y-o-y decline starting from Q2 2012 more than one year ago.
The market faces its second consecutive year of decline.
'Mobile PCs continue to be engaged in a losing battle against tablets,' says IHS.
Apple shipped 14.25 million iPads in Q3 – both mini and 10 inch – representing 29.7% of unit shipments, but a decrease from Apple's Q2 shipments of 14.62 million and its market share of 33.5%.
Samsung shipped 10.7 million tablets in Q3 for a 22.2% share.
This time last year, Samsung had 14.1% share while Apple had 42.4% share.
'The surge in sub-$250 alternatives catapulted Android to the leading operating system in tablets in the third quarter of 2012, but left vendors searching for profit in an increasingly competitive market,' says IHS.
By contrast, Apple actually increased its revenue per iPad unit in Q3 by $3.
Apple recently passed the 170 million mark in terms of cumulative units sold since the launch of the first iPad.
Samsung, its closest competitor, has shipped 54 million units since it arrived in the tablet market in the fourth quarter of 2010.
Asus grew its Nexus 7 tablet sales 87% in Q3, and Lenovo grew its tablet sales 94.6%.
However, adds IHS: 'Little-known, regional vendors based in China have blanketed the globe with minimally configured, Android-based, 7.x-inch tablets at price points of $100 or less.'