Toshiba mass produces 19nm NAND modules up to 128GByte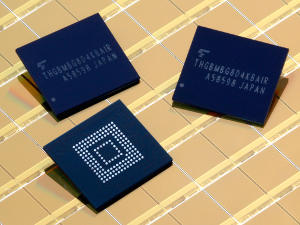 Today Toshiba launches 19nmNAND flash memory modules in densities from 4Gbit to 128Gbit. Mass production will start from the end of November.
The 32-gigabyte device integrates four 64Gbit NAND and a dedicated controller into a small package measuring only 11.5 x 13 x 1.0mm. It is compliant with JEDEC eMMCTM Version 5.0, published by JEDEC in September, and achieves a high read/write performance by applying the new HS400 high speed interface standard.
Toshiba will bring the NAND chips to a line-up of single-package embedded NAND flash memories in densities from 4GB to 128GB. All will integrate a controller to manage basic control functions for NAND applications.
Following 16GB and 32GB products, Toshiba will release 4GB, 8GB, 64GB and 128GB products in turn.
Key Features are:
The JEDEC e•MMCTM V5.0 compliant interface handles essential functions, including writing block management, error correction and driver software. It simplifies system development, allowing manufacturers to minimize development costs and speed up time to market for new and upgraded products.
Embedded in a system, the 128GB module can record up to 2,222 hours of music at a 128Kbps bit rate, 16.6 hours of full spec high definition video and 38.4 hours of standard definition video[2].
The new products apply NAND flash memory chips fabricated with leading-edge 19nm second generation process technology.
The new products are sealed in a small FBGA package measuring just 11.5 x 13mm and has a signal layout compliant with the JEDEC e•MMCTM V5.0.
Key Specifications include:
JEDEC e•MMCTM V5.0 standard HS-MMC interface 32GB and 16GB capacity;
power supply voltage 2.7~3.6V (Memory core) 1.7V~1.95V / 2.7V~3.6V (Interface)z; bus width x1 / x4 / x8;
write speed 90MB per sec. (Sequential/HS400 Mode), 50MB per sec. (Sequential/HS400 Mode);
read sped 270MB per sec. (Sequential/HS400 Mode), and 270MB per sec. (Sequential/HS400 Mode);
temperature range -25degrees to +85degees Celsius;
package 153Ball FBGA 11.5x13x1.0mm and 153Ball FBGA 11.5x13x0.8mm