Toshiba sampling highly integrated power IC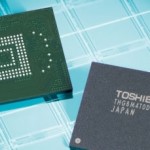 Today, Toshiba starts sampling a power supply IC that incorporates multiple DC-DC converters and series regulators1 for general automotive applications. Mass production is a year away.
Automotive applications require microcontrollers that operate with low power and high current. This increases the need for power supply ICs incorporating DC-DC convertors with the high electrical efficiency required to reduce overall power consumption.
The"TB9043FTG" integrates two channels of DC-DC converters and two channels of low noise series regulators, and can drive microcontrollers that require a 1A class large current load.
The IC also integrates a wide variety of monitoring functions and outputs monitoring status.
The chip has:
Built-in 2 channels of DC-DC converters (1 output). One Dc-DC converter generates 6V power supply from a car battery; and the other converter generates 1.2V, 1.5V or 3.3V (selectable) for the microcontroller core from the 6V supply.
Built-in 2 channels of series regulators (2 outputs). The two series regulators independently generates 5V supplies out of 6V supply from DC-DC converter: 400mA current capacity is used for the microcontroller, and 100mA current capacity is used for a sensor or other interface.
Integrated monitoring functions. The product incorporates dual circuits for overheating detection and overcurrent limiter to secure continued operation in the even one circuit malfunctions.
The chip also integrates output voltage detector, and terminal for monitoring normal frequency and comes in an HQFN52 package.