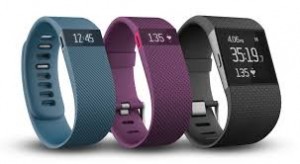 27.4 million wearables were shipped in Q4 and 78 million in 2015.
"What is wanted is continued innovation and development," says IDC's Ramon Llamas. "The market can only get so far with 'me too' and 'copycat' wearable devices. End-users expect improvement from what they have now, and new applications to spur replacement and increased adoption. Historical data, like steps taken and calories burned, has been a very good start. Prescriptive data, like what else a user can do to live a healthier life, coupled with popular applications like social media, news, and navigation, will push wearables further, and attract more users."
Fitbit. Apple, Samsung, Xiaomi and Garmin dominated the market.
Fitbit ended the year the same way it began the year: as the undisputed worldwide leader of wearable devices. The same drivers were in play: a well-segmented device portfolio, a fast-growing corporate wellness program, and extended market reach around the world. 2016 shows new hardware development with a watch (Fitbit Blaze) and a fashion-oriented wristband (Fitness Alta), while the company remains true to its fitness tracking DNA.
Apple grew its Watch distribution, enjoyed holiday promotions, and drove the company's overall 'Other Products' revenue during 4Q15. However, volumes for the quarter grew only slightly from the previous quarter and total revenues have yet to counterbalance the slowing growth and declines from the company's other product categories. Expectations are higher for the next-generation Watch that can leverage the company's platforms (HealthKit, ResearchKit, WatchKit, and watchOS 2) and connectivity capabilities.
Xiaomi's focus on inexpensive fitness trackers resonated within China, with prices far below the competition (as low as $11 USD), making the Mi Band an inexpensive purchase. This allowed Xiaomi to have the largest year-over-year improvement of any vendor on our list. Xiaomi's latest device, the Mi Band Pulse, continues that tradition ($13 USD) even as it adds constant heart rate monitoring. This puts the company on a more even playing field with other vendors, but not enough to stand out against the crowded market.
Samsung finished just ahead of Garmin to take fourth place during the quarter. Driving volumes was its Gear S2, which caught attention for its bezel-based user interface and its optional cellular connectivity. Beyond the Gear S2 were legacy devices including the year-old Gear S and the two-year old Gear Fit. The company recently begun experimenting with other form factors, including a smart belt, NFC-connected suit, and footwear.
Garmin's long history with wearable fitness translated well for the company to remain among the top five vendors worldwide. Garmin has a well-segmented device portfolio, with devices that specifically address runners, golfers, swimmers, citizen athletes, and followers of other activities. Recently the company announced Varia Vision, an augmented reality display that mounts to a pair of sunglasses for cyclists