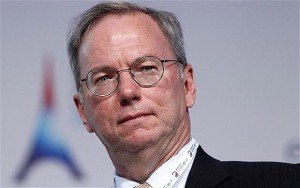 Schmidt told the Today programme that: "Britain is the leader in e-commerce in the world, far ahead of the United States. You have the right regulatory environment. You've got the right role within continent. Look at the e-commerce plays and service plays that are now happening in London."
Schmidt added that he thought UK start-ups tended to sell out too early. "If you have a strong franchise that's growing quickly, you're probably better off waiting a while before selling," he said, insisting that the UK had everything necessary to build hundred billion pound companies.
Schmidt reckons there is nothing to stop the launch of "a European-scale corporation that is larger than a US-scale corporation".
He thinks the European concept of a single digital market is an enabler. "Europe is pushing on a European digital single market and in the timeframe of you building a small start-up, the Europeans will figure out a way of building a single digital market for your Vision."
Schmidt added that the "only thing that matters" to a successful start-up is product quality and, for that, a "strong engineering lead" is necessary. And that has to come from in-house, he said.