Universities asked to bid for 'big data' funding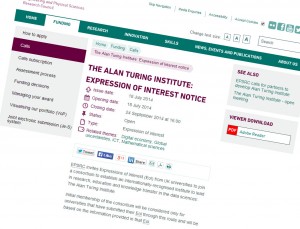 The government is asking universities to bid for shares of £42m, allocated over five years to fund the Alan Turing Institute.
The Institute's objective will be to ensure that the UK remains at the forefront of analytical methods required to exploit publicly or privately owned large data sets.
"The Institute will build on the nation's strengths and help position the UK as a world leader in the analysis and application of 'big data', said the Engineering and Physical Sciences Research Council (EPSRC), which is co-ordinating the establishment of the Institute.
Universities wishing to join the establishing consortium should submit an expression of interest.
The Institute will have a physical location.
£42m to 2020 includes an initial capital investment of £20m, and support for operating costs to assist in funding the Institute.

Tags:
big data
,
EPSRC
Related Tech News
Share your knowledge - Leave a comment