Universities must not over-price IP, says Cambridge professor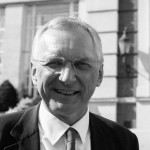 Cambridge computing professor Andy Hopper has made a call for more cooperation between universities, the Government and the UK's small companies.
With Universities facing a decline in research funding and grants, Professor Hopper re-stated his belief that UK SMEs should be given greater access to University-created and tax-payer funded intellectual property (IP) to accelerate the development and commercialisation of new technologies.
"Universities should be incentivised to kick start the development of new technologies and products by assigning IP to innovative UK businesses at minimal extra cost," said Hopper, who is Professor of Computer Technology and Head of Department at the Computer Laboratory, University of Cambridge.
"The payback is that universities could get a one or two per cent shareholding on the basis that some of these companies will become the next generation of ARMs and CSRs. There is growing support for these ideas and it is already happening in a number of UK universities."
He was addressing an audience of business leaders, entrepreneurs, engineers and academics at the Møller Centre, Churchill College, Cambridge in an event presented by Cambridge Wireless, the local industry forum.
His talk on, "Academia, Research, Patents and the Cambridge Cluster" highlighted his strong-held views on the importance of a more united relationship between businesses and universities to help drive future growth in the UK economy and pointed to the rapid success of the Raspberry Pi to illustrate what can be achieved.
Hopper said he believes that the steep decline in access to readily available funding for university research will have serious detrimental effects if alternatives are not sought.
Professor Hopper has co-founded a dozen spin-outs and start-ups, including Virata, a global chip company and more recently RealVNC and Ubisense.
The Prestigious Lectures Series has been specially designed and created for Cambridge Wireless Founder Members and is chaired by Professor William Webb. The Andy Hopper lecture was sponsored by Rohde & Schwarz.