Comment: PCB businesses need to adapt to changing semiconductor demands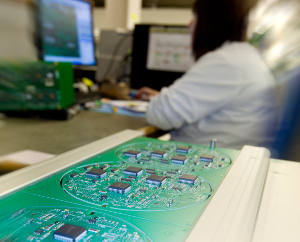 Claire Mackay, Technical Sales Manager, eXception EMS considers the key issues both semiconductor businesses and their PCB suppliers face in the race to produce ever smaller intelligent devices.
Despite revenue growth having slowed in recent years, due mainly to the prevailing economic uncertainty – things look to be on the up for Semiconductor businesses as analyst firm Gartner recently predicted a 4.5 per cent increase from 2012 revenues. However margins continue to be squeezed as semiconductor firms and their customers drive down prices amid tough competition, leaving suppliers in their wake facing increasingly tougher challenges to deliver on both price and value.
In the PCB sector, space constraints in ever smaller intelligent devices, like the smartphone and tablet, are also making the PCBA's job even tougher. Not only do they have to deliver on time and within budget to their semiconductor clients, but they're also dealing with the consequence of smaller and smaller components that need a multitude of equipment and skills to ensure a quality finish.
CEMs under pressure
In the semiconductor market speed is of the essence. In such a fast-paced and highly competitive sector being first to market with new products, versions and updates is critical, which means for the Contract Electronic Manufacturer (CEM) deadlines can be extremely tight. As is often the case, the design phase of a new project absorbs a large amount of the allotted time for product development, which in turn puts pressure on the supporting Contract CEM to deliver on time with reduced allowable lead times.
Partnership
A CEM is often seen as a 'supplier', however increasingly CEM's are needing to develop a more traditional 'Partnership' approach to client relationships – working directly with client teams in early stages of development from design through to product conception. This approach is becoming more critical as it gives CEMs the ability to improve product development cycles substantially. Taking a Partnership approach also means there is a direct technical contact within both the customer and the CEM, which allows for technical engagement at the very beginning of a project – crucial to delivering on expectations further into product development.
Another key benefit of this more 'entwined' approach is designing out manufacturing cost and removing extra processes. For example, client PCB designers are conversing with CEM manufacturing engineers before final review of a new design, which allows the manufacturing engineers to review the data and provide detailed feedback and support by way of Design For Assembly/ Design For Manufacture to enable design changes to be made, where suitable, for ease of manufacturing and to invite cost down. Clients are fully supported with advance material procurement, accelerated engineering and assembly, without any compromise on quality.
Innovation and roadmaps
Closer collaboration also ensures technological needs will be met. Developing a closer relationship between the customer and CEM provides an opportunity to help develop the CEM technology roadmap, ensuring equipment necessary for product build is available and procured within the timescales required.
Semiconductor technology is renowned of course for its fast innovation so understanding the technology direction over the short and long term allows the CEM to investigate and invest in the latest technology within the timescales required, and goes some way to ensure continued support with product development.
From this, the CEM can then provide the customer with manufacturing process updates so that they can understand the equipment and technique development for component placement and general assembly, thus providing the technical support the client can include in future design requirements.
Getting closer
In all, the relationship between the customer and CEM is becoming critical – gaining insight into the very early stages of product development is giving the CEM insights that will have a bearing on their own technological direction.
With the sector so pressured by time to market, technological innovation and price there has never been a more important time for CEMs to adapt, get close to their customers and work collaboratively to ensure quality and price meet the needs of the customer, so they in turn can succeed and deliver on time to their own customers.
Claire Mackay, Technical Sales Manager, eXception EMS
1 Comment