Vitesse sampling Jaguar-2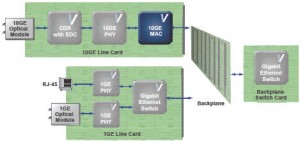 Vitesse is to sample during the current quarter an Ethernet switch chip for carrier and enterprise networks which it calls Jaguar 2 (VSC7468).
Vitesse describes it as 'a turnkey, single chip solution for MEF CE 2.0-compliant delivery of business services over public and private cloud networks.'
It has 48 Gigabit Ethernet ports, 24 2.5G ports, up to four ports of direct connectivity to 10G optical modules and Layer-3 routing support.
It is powered by Vitesses's Service Aware Architecture (ViSAA) for carrier-grade Ethernet services.
The chip supports G.8032 Ethernet rings and MPLS-TP.
It supports 1Gig and 10g Ethernet applications. It delivers hierarchical service OAM and performance measurement including up and down MEP OAM and service activation testing for maintenance and SLA assurance purposes.
The chip delivers hierarchical QoS on a per-service basis and uses Vitesse's VeriTime IEEE 1588v2 precision time protocol.
It delineates between customer and service issues and guarantees service availability through protection of services and network tunnels.
Image: Vitesse Carrier Ethernet Switch Engines