Weak 2013 for O-S-D, says IC insights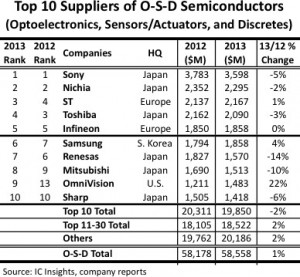 Japanese companies maintained their domination of the markets for opto, sensors and discretes (OSD) last year, says IC Insights, with six companies in the world top ten.
It was not, however, a good year for the sector.
Opto, led by LED, did best – growing 5% to $29.2 billion.
The sensors/actuators segment was uncharacteristically flat with no growth last year at $8.7 billion.
The discretes market dropped 5% to $20.7 billion.
Ten companies accounted for 34% of the $58.6 billion combined OSD market last year but the collective market share of these ten companies fell 2%.
The top 30 companies accounted for 66% of the OSD TAM.
Top Ten OSD Suppliers 2013
$bn
Sony. 3.6
Nichia 2.3
ST 2.2
Toshiba 2.0
Infineon 1.9
Samsung 1.9
Renesas1.6
Mitsubishu 1.5
OmniVision 1.5
Sharp 1.4

Tags:
IC Insights
Related Tech News
Share your knowledge - Leave a comment