Zytronic wins European touch sensor design-in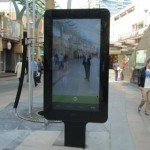 UK-based Zytronic has seen its projected capacitive (PCT) touch sensors selected by Surtronic for integration into a public information/digital signage unit that it has developed and is now starting to deploy in busy retail areas across Europe.
Following an initial deployment at the Koopgoot Shopping Centre, in Rotterdam, Surtronic is now planning to install these units in retail areas across Europe, as well as in transportation hubs, such as train stations, were they will provide interactive travel information and timetables.
Surtronic specified that the 72-inch touch sensor used in the display was capable of operating through an 8mm thick tempered glass protective overlay, making it resistant to vandalism. It is the rugged construction and ability to reliably detect touches through such thick glass was a ket feature of Zytronic's PCT touch sensors.
The technology uses a matrix of micro-fine copper capacitors (that at just 10µm in diameter are effectively invisible on a powered display). This capacitor array is embedded into a laminated glass substrate, which can itself be placed behind further protective glass or polycarbonate overlays – so that the display is safeguarded from many different forms of damage and mechanical stress (including impacts, scratches, shocks, vibrations, etc.).
Furthermore, the projected capacitive sensing technology used is unaffected by liquid, dust and dirt on the surface and will work with gloved hands.
"The resistance of Zytronic's sensors to various forms of wear and tear, as well as the strong touch performance characteristics they exhibited, made them our first choice," said Arie van Dijke, sales manager at Surtronic.