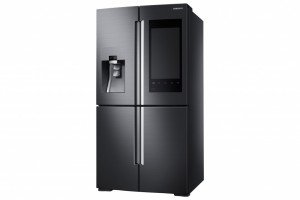 Called the Family Hub Refrigerator and announced at CES: "We are transforming the communal kitchen experience for consumers in ways that will re-define how they view and use their refrigerator," claimed Samsung home appliance v-p John Herrington. "Now more than ever, we are delivering on the promise of the Internet of Things with a Wi-Fi-connected range that takes cooking convenience to a new level."
So what does it to?
At least one useful thing, it transpires: It has three cameras inside that photograph the contents every time the door is closed. The photos can be remotely accessed by phone – so no more standing in the super market isle trying to remember how much broccoli is left.
On the door is a 21.5inch LCD, which Samsung calls "the refrigerator's digital family command centre", allowing people to post, share and update calendars, pin photos, share kids' works of art, and leave notes "all with the ease and convenience of your smartphone" – which suggests it is a touch screen.
"You can even use the refrigerator to do on-line grocery shopping with the aid of a major credit card partner, as well as manage recipes and compile and share shopping lists," said Samsung.
It also offers options for music streaming through a built-in speaker or via external Bluetooth speakers and displays TV programs using screen mirroring from a suitable Samsung smart TV.
And then it acts as a fridge too – within which sections can be switched to freezer mode.
The firm has high hopes for the fridge: "Samsung has reinvigorated the home appliance space with fresh thinking and functionality that have taken appliances from a 'need' to a 'want'," said Herrington.
As a partner, there is an IoT cooker with remote monitoring of hob and oven. "You can pre-heat and adjust oven cooking temperatures all from your smart phone," said Samsung.
It is possible to remotely check the hob is turned off but, wisely, it appears the hob burners cannot be turned on via the internet.