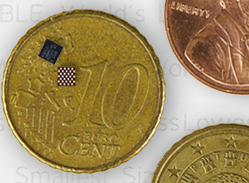 SAM L21 is based on an ARM Cortex-M0+, includes an encryption block, and is currently leading EEMBC's ULPBench low power benchmark for M0+s with a score of 185. Active consumption is down to 35µA/MHz. or 200nA sleeping. The Bluetooth chip has a second ARM, a Cortex-M0, in a 2.2 x 2.1mm package.
The reference design, intended to be powered from a coin cell, fits into 30 x 40mm and includes capacitive touch, security, a real-time operating system (RTOS) and a couple of Bosch sensor chips: a BHI160 6-axis motion and BME280 environmental (pressure, humidity and temperature).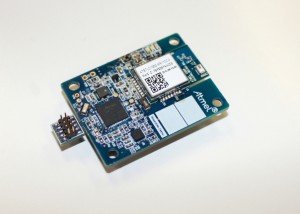 It is compatible with Atmel's Studio 7 integrated development environment and its Start web-based software configuration and code generation tool.
Intended markets include healthcare, fitness and wellness, according to product marketing director Andreas Eieland.
"As a leading provider of ultra-low power IoT solutions, we know that out-of-the-box, easy to implement reference platforms are a necessity to help accelerate the adoption of wearable applications, and enable a rapid time-to-market for new product ideas," he said.
"Atmel's new reference platform allows our customers to develop differentiated solutions for cost-optimized, yet competitive, markets including healthcare, fitness, wellness and much more. We continue to help drive the IoT and wearable market with simple, ultra-low power platforms with complete hardware and software solutions."
At CES: South Hall 2, Booth MP25760.
See also: Dialog buying Atmel
See also: Wearable sensors measure both feet when jogging
See also: Wearable tech will revolutionise healthcare, says Imperial