Linear Tech aims wide range mixer at basestations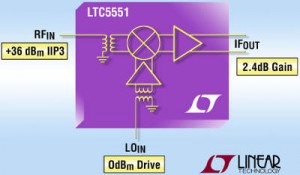 Linear Technology has announced a wide dynamic range RF down-converting mixer with +36dBm input third-order intercept (IIP3) and 9.7dB noise figure "comparable to the highest IIP3 passive mixers available", claimed the firm.
It is called the LTC5551.
"Unlike passive mixers which typically have 7dB to 9dB of conversion loss, the LTC5551 boasts 2.4dB of conversion gain, operating from 300MHz to 3.5GHz," said the firm.
There is an integrated local oscillator buffer, requiring only 0dBm drive.
"The elimination of a high power LO signal in the users' receiver, substantially reduces a potential source of undesirable radiation, simplifying filtering and RF shielding requirements," said Linear Tech.
1dB compression point is +18dBm, and both the RF and LO inputs have integrated balun transformers.
Consumption is 204mA from 3.3V, and there is a lower power mode (142mA) which drops IIP3 to +29.3dBm, and a 100µA stand-by. For burst-mode operation, both turn-on and turn-off are in 500ns.
Applications with strong interference sources, such as multi-carrier GSM, 4G LTE and LTE-Advanced multimode basestations, point-to-point backhauls, military communications, wireless repeaters, public safety radios, VHF/UHF/white-space broadcast receivers, radar and avionics.
-40°C to 105°C operational case temperature is specified for the device, which is in a 16-lead, 4x4mm QFN.