Fastest 18-Bit SAR ADC unveiled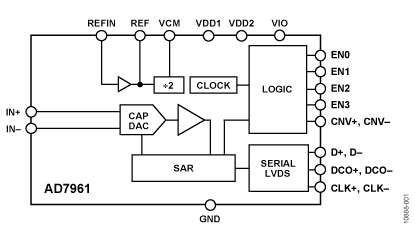 Analog Devices is claiming a first, with an 18bit successive approximation (SAR) ADC that can hit 5Msample/s – said to be twice as fast as anyone else's.
"With its industry leading throughput, best-in-class noise floor and high linearity, the AD7960 was designed for low-power signal chains, multiplexed systems such as digital X-ray, and oversampling applications including spectroscopy, MRI gradient control and gas chromatography," said the firm.
The figures are:
22.4nV/√Hz noise floor relative to its full scale input
+/-0.8 LSB INL dc linearity
99dB signal to noise ratio.
39mW consumption at 5Msample/s.
Data transfer off the chip is through a 300MHz LVDS (low-voltage differential signalling) interface.
There is also a pin-compatible 16bit version: AD7961 has 95.5 dB SNR and +/-0.2 LSB INL at 5Msample/s.
A reference design to go with the AD7960 is posted on the web, and the firm suggests ADA4897 (rail-to-rail output) or AD8031 (rail-to-rail I/O) amplifiers, and ADR4540 or ADR4550 voltage references as partner chips.
Product
Resolution
SNR
(typ)
Temp Range
Package
AD7960
18 bit
99dB
-40 to 85°C
5x5mm
32 lead LFCSP
AD7961
16 bit
95.5dB
-40 to 85°C
5x5mm
32 lead LFCSP