Peregrine aims at LTE-A handsets with antenna tuning switch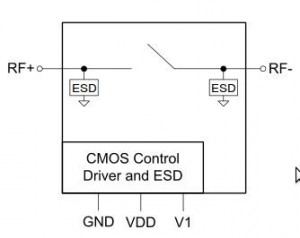 Peregrine Semiconductor has announced a single-pole, single throw antenna tuning switch for LTE-Advanced smartphones.
Called PE613010, it has already been designed in to the Vega LTE-A phone, available for use on SK Telecom's network in Korea, by Pantech.
The switch has an on-resistance of 1.2ohms from 700 to 2,700MHz, claimed to be industry's lowest, and comes in a 2 x 2 x 0.55mm package that requires no external components.
"With single-pin low voltage CMOS control, all decoding and biasing is integrated on-chip and no external bypassing or filtering components are required," said Peregrine.
Electrostatic discharge tolerance is 2kV (human body model) on all pins.
Both switch and an evaluation kit to go with it are available now.
The fabless firm used silicon-on-insulator for its switches.
In this case, VDD operating range is 2.3-4.8V, Coff is 0.4pF, and the packackage is a 10 pin QFN.
No data sheet appears to be available yet.