Cadence improves audio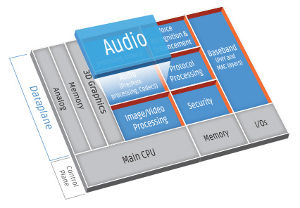 Cadence has leveraged its acquisition of Tensilica to deliver DTS Neural Surround Support for audio applications.
DTS Neural Surround technology encodes up to 7.1 channels of audio to stereo while maintaining the surround queues from the discrete digital multi-channel track.  The two-channel audio can then be broadcast in stereo or converted back up to 7.1 channels on the consumer end product enabled with Neural Surround, providing an experience as close to the original discrete multi-channel audio as is available today.
Cadence's Tensilica HiFi Audio/Voice DSP is the most widely used licensable audio/voice DSP family, with support for over 100 proven audio/voice software packages. More than 55 companies have licensed the HiFi DSP family, and over 200 million HiFi DSP cores have been shipped in their smartphones, tablets, computers, digital televisions, home entertainment systems and other devices.