Full LED headlight replaces halogen originals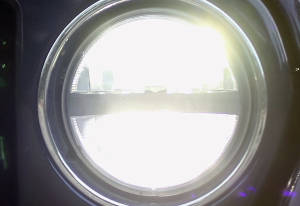 US automotive firm Peterson Manufacturing entered the LED headlamp market with an all-LED main/dip replacement for 7inch (PAR56, 175mm) headlights, based on new Osram LEDs.
Called 701C, it uses two Ostar Headlamp Pro LEDs, firing sideways into separate main and dip reflectors.
With a move to a Pro version, Osram has done away with the glass die cover used in the earlier non-Pro Ostar Headlamp LED, and instead encapsulated the die and bond wires in an elastomer.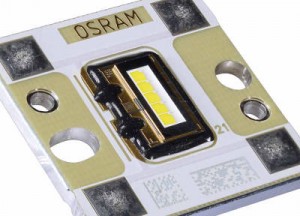 Like the original, the device comes on a 20x20mm substrate with mounting holes.
In the Pro case, the substrate is aluminium, with the die sitting on a small ceramic block on its surface.
Thermal resistance has been improved to 1.6-3K/W, depending on how many die are installed, from 2.1-6.6K/W. Corrosion resistance has also been improved, said Osram.
The same substrate is available in linear arrangements of 2, 3, 4 or 5 chips. Part numbers are LE UW U1A2 01 to LE UW U1A5 01 respectively.
"With luminance of 40×10(super6)cd/m(super2) and a radiating surface of 5.5mm, the five chip version is an ideal solution for automotive exterior lighting. It easily achieves the same output as a halogen lamp and is an important milestone in LED performance," claimed Osram.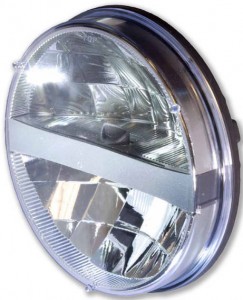 The complete Peterson headlight includes a built-in 9-32V (1.9-0.7A) power supply making it compatible with both 12V and 24V systems.
According to Peterson, it is US Department of Transport legal, and a drop-in LED replacement for all PAR56 standard headlights, including H6014, H5024 and H6024 halogen sealed beams: "It exceeds FMVSS-108 and CMVSS-108 requirements, and its construction and performance conforms to all applicable SAE standards."
Low (dip) beam output is 1,100 lm, and consumption is 1.6A (12.8V, 20W, 55 lm/W) or 0.6A (28V, 17W).
The 1,650 lm high beam consumes 2.0A (12.8V, 25W) or 0.8A (28V, 22W, 75 lm/W).
Colour temperature is 5,400-6,300K (daylight), and it is designed to work from 30 to 50°C.
The housing is cast aluminium, with a hard-coated polycarbonate lens.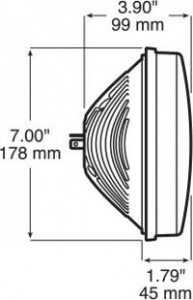 "Unlike some competitors' lights, which claim to be direct PAR56 replacements, 701C has its standard H4 three-blade terminals integrated into the housing, not wired onto the light as a separate pigtail," said Peterson.
Peterson designed and is making the lamp in Missouri, with Munich-based Osram collaborating in developing that initial concept and provided optics support and thermal simulation.
There is more information and videos about the 701C LED headlight here.
2 Comments