IR LED hits 48% electro-optic efficiency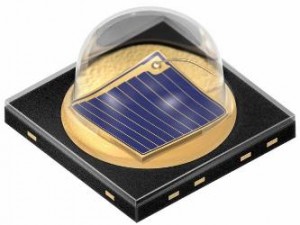 Osram Opto achieved typical electro-optical efficiency of 48% with its 850nm Oslon Black SFH 4715A infra-red power LED, which is intended for security illumination.
"We are not aware of any other opto-electronic component with an optical efficiency to rival this one. SFH 4715A can almost match a laser in terms of efficiency," said Osram product marketing manager Dr Jörg Heerlein.
Beam angle is 90°- intended for outdoor CCTV illumination – and output power is up 30% from the previous (non-'A' suffix) version (800mW from 630mW) "allowing for greater ranges than previous members of the Oslon Black family. The same range can hence be achieved with fewer components, yielding a cost benefit that is not to be sniffed at," said Heerlein.
In view of its outdoor market, ESD protection is up to 2 kV and it has extended corrosion-resistance.
There is alwo a wider-angle version, the 150° SFH 4716A, for injecting light into narrow-beam reflector optics.
SFH 4715A (4716A) at a glance
| | |
| --- | --- |
| Package size | 3.85×3.85×2.29mm (3.85×3.85×1.51) |
| Optical output at 1A | 800mW, previously 630mW |
| Spectral centroid | 850nm |
| Efficiency | Typically 48% |
| Thermal resistance | 11K/W max |
| Beam angle | 90 (150°) |

Tags:
infra-red
,
Osram
Related Tech News
Share your knowledge - Leave a comment