LEDs compete in streetlighting big league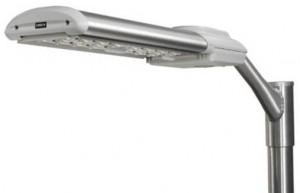 Cree has released a high-output street light that can replace high-pressure sodium (HPS) lamps up to 400W for multi-lane road applications.
Called LEDway HO, it "provides directional light at nine adjustable lumen output levels, reducing energy consumption by more than 50 percent compared to HPS street lights in most roadway applications", said the firm.
That said, the spec. shows 274W consumption from 120-277V (50/60Hz), which is a 32% energy reduction from 400W.
Power Factor is over 0.9 and harmonic distortion is under 20%, both at full load.
Colour temperature options are 4,000 or 5,700K, with CRI above 70.
Output is between 25,000 and 26,800 lm depending on options selected, predicted to be 84% of initial value after 50,000h at 25°C.

Related posts