Lighting LED puts more flux in a 3535 package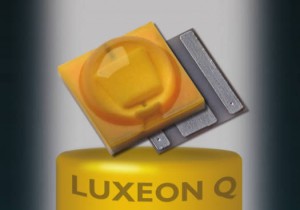 Lumileds has introduced Luxeon Q, a lighting LED in a standard 3535 surface mount package.
Using the firms flip-chip die, claimed efficacy is 135 lm/W at 5,700K 70 CRI and 115 lm/W at 3,000K 80 CRI (85̊C, 350mA).
"Our LED is especially competitive when it's driven harder. For instance, at 1A, a flux of more than 300lm at an efficacy of 102 lm/W at 85 ̊C is achieved in neutral white at 4,000K," said product line director Kathleen Hartnett.
Applications are foreseen in high bay luminaires, low bay luminaires, downlights, outdoor wall packs, and replacement lamps.
"Customers are starting with a familiar LED package and can build their products using readily available optics and other compatible components," said Hartnett.
Q is available in 2,700, 3,000, and 3,500K at 80 CRI, and 4,000K and 5,700K at 70 CRI.
Picking an 80 CRI 3,000K device (L1Q0-3080) from the range, typical 85deg Tj figures for flux, voltage and efficacy are:
102 lm, 2.81V and 104 lm/W at 350mA,
183 lm, 2.93V and 89 lm/W at 700mA, and
240 lm, 2.99V and 80 lm/W at 1A.
Typical viewing angle is 135deg FWHM, and the package is 3.45×3.45×2.12mm.