Osram's second-generation headlamp LED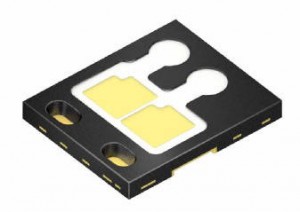 Osram Opto has introduced a two chip version of its Oslon Black Flat automotive lighting LED, effectively introducing a second-generation of headlamp LED packaging.
While it's first-generation Ostar Headlamp products are very much designed not to scare the conservative automotive industry – they are bolt-down ceramic tiles for with solder pads for flying leads – Oslon Black Flat is surface-mount, allowing it to be mounted alongside its power conditioning components to cut system cost.
With two die, it achieves over 500 lm at 1A from a 3.1×3.75mm package 0.5 mm high.
"With the new Oslon Black Flat we're bringing a significantly more slender LED than the previous version into our portfolio to enable even more compact headlight systems," said the firm. "The two-chip LED is suitable for all headlight functions, primarily for daylight running light with light guides, as well as generally for low beam and high beam light."
However, with traditional car headlamps producing from 1,500 to 2,100 lm, a headlight base on this LED would require three or more sub-headlights per side for a main beam. The five-die variant of the Ostar Headlamp Pro, which is a 100 lm/W device, produces 1,120 to 1,800 lm at 1A from a single package.
The 'Black Flat' part of the name refers to the black colour of the packaging immediately adjacent to the die, and the lack of primary lens on top of the chip.
"A special sealing technology together with the sophisticated package and ceramic converter enable the highly uniform distribution of light as well as good contrast conditions on roads. Chip encapsulation is directly in the package to achieve a defined bright/dark border in the light beam, and the high contrast of the luminous surface of both chips in relation to the package also contributes to this," said Osram.
With no primary lens, effective luminance is higher. "This is particularly important in automotive front-lighting solutions based on projection systems", said Peter Knittl, Osram director for automotive LEDs. "The greater the luminance of the LED, the smaller the external lens and the smaller the space needed. Headlights can therefore be made much more compact, giving designers much more freedom."
The package is a QFN designed to expands "in a similar manner to the circuit board during high temperature cycle loads", according to the firm, and thermal resistance is 1.2K/W.
The chip to chip gap is 0.1mm.
Samples of the twin-die Oslon Black Flat are available now, and volume start-up is planned for the turn of the year.
The single die Oslon Black Flat was introduced in September last year.
At 2.3W (700mA 25°C) it typically delivers 200 lm, and up to 270 lm at 1.2A (die at 100°C).
Resistance of the one die package is 4K/W
Compared with earlier product, "thermal management is simpler with this LED. This is thanks to the greater thermal stability of the luminous flux under hot conditions, and also to a temperature-optimised packaging process", said Osram. Claimed durability is "more than 100,000 hours at 700mA and a chip temperature of 60°C."