Rohm designs tiny LED with aspherical lens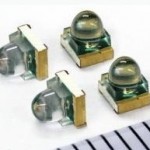 Rohm Semiconductor has developed high-output surface mount LED with lens in a small form factor package measuring just 2.9mm x 2.4mm.
It is designed to be used as lighting for autofocus operation in digital cameras and camera-equipped devices.
Designated the CSL701/801 series, the device's optical design is based on a small light-emitting element and an aspherical lens developed through proprietary molding technology.
"This results in the industry's smallest (2924 size: 2.9mmx2.4mm) surface mount aspherical lens LEDs," said Rohm.
The device has a specified optical axis deviation of only ±3 for autofocus applications.
High output is possible in a compact form factor, along with lower current consumption. For example, for a luminosity of 50cd current can be reduced by 25%.