Samsung uses 3D NAND chips in 960Gbyte drive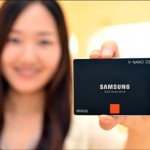 Samsung Electronics has introduced its first solid state drive (SSD) based on its 3D V-NAND flash memory technology.
Samsung's V-NAND SSD comes in 960Gbyte and 480Gbyte versions.
The 960Gbyte is built from 64 dies of MLC 3D V-NAND flash with a six-gigabit-per-second SATA interface controller.
The V-NAND SSD also offers 35k program erase cycles and is available in a 2.5 inch form factor with x, y and z-heights of 10cm, 7cm and 7mm, which provides server manufacturers with more design flexibility and scalability.
According to Samsung, the 3D technology gives it manufacturing productivity improvements over twice that of 20nm-class planar NAND flash, by using cylinder-shaped 3D Charge Trap Flash cell structures and vertical interconnect process technology to link the 24 layers comprising the 3D cell array.
"By applying our 3D V-NAND – which has overcome the formidable hurdle of scaling beyond the 10-nanometer (nm) class," said E.S. Jung, executive vice president, semiconductor R&D center at Samsung Electronics at the Flash Memory Summit which took place earlier this month in California.
"As we pioneer a new era of memory technology, we will continue to introduce differentiated green memory products and solutions for the server, mobile and PC markets to help reduce energy waste and to create greater shared value in the enterprise and for consumers."
Samsung said it began producing its new V-NAND SSDs earlier this month.
Related news
Toshiba breaks ground on 3D NAND fab