Airline introduces cash-card with help of secure MCUs from ST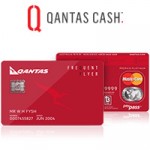 Qantas, the Australian airline, is using a secure microcontroller chipset from STMicroelectronics as part of the deployment of its latest loyalty card for passenger and baggage airport check-in as well as for multi-currency cash transactions.
Quantas started using ST card and tag systems in 2010 when the airline introduced a loyalty card combining contactless check-in and automatic baggage drop linked to RFID tags. The airline added a cash-card function late last year.
The Qantas Cash-Card, which can accommodate up to nine different currencies, uses a dual sub-system design to ensure the security of the user's data and currency: the EMV (EuroPay, MasterCard, Visa) runs the cash-card function and the LOYALTY kernel controls the check-in and partner functions.
The approach required an enhanced EMV-level certification to ensure and confirm that the card applet maintained card security and EMV operation.
"Together with ABnote, the ST security and control offering to Qantas is very much in synch with the objectives of IATA 2020 vision of streamlining and mastering the flow of people, baggage, goods, and information across the whole air-travel infrastructure," said Francois Guibert, president, Greater China & South Asia Region, STMicroelectronics.

Tags:
MCU
Related Tech News
Share your knowledge - Leave a comment