Dialog licenses Cadence Tensilica audio DSP IP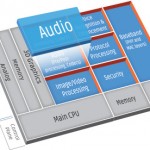 Dialog Semiconductor has licensed Tensilica HiFi Audio/Voice DSP intellectual property (IP) from Cadence Design Systems.
The Tensilica HiFi Audio/Voice DSPs support over 100 audio/voice software packages for integrating into consumer audio designs.
According to Mark Tyndall, vice president of corporate development and strategy at Dialog: "The Cadence Tensilica HiFi Audio/Voice DSP has a comprehensive software partner ecosystem, which is essential for the connectivity and portable device markets we serve."
"By selecting our HiFi audio/voice DSP IP core, Dialog will be able to continue its tradition of offering its customers top-quality ICs for their next generation wireless connectivity and other portable devices, including smartphone and tablet PCs," said Jack Guedj, corporate vice president of research and development at Cadence.
The DSP IP can be optimised using automated design tools to meet specific and demanding signal processing performance targets.
In 2011, Edinburgh fabless chip firm Wolfson has introduced a stand-alone Tensilica DSP with a suite of audio software for phones, tablets and TVs.
Called WM0010, the 200Mips processor has a 24bit data path and 32bit fixed point data engine, plus memory and interfaces including SPI, TDM, and I2C.
In a smart phone, claims Wolfson, the DSP can offer MP3 decode for 16mW, including dissipation within an associated DAC and earpiece driver chip from the firm. |
Audio algorithms for the Tensilica architecture are also available from Tensilica and third-party suppliers, and designers can write their own.