MediaTek 'leads way' with heterogeneous multi-processing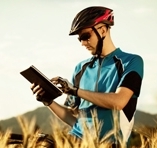 MediaTek's latest MT8135 SoC is the "first publicly announced mobile SoC enabling heterogeneous multi-processing (HMP) utilising asymmetric processor configurations," so says Imagination Technologies, which has its PowerVR Series6 'Rogue' graphics processor implemented in the SoC.
The significance of this is that true heterogeneous multi-processors support dynamic configuration of the operating modes of CPUs, GPUs and other processors in the system, to optimise power consumption under workload conditions.
"Within an SoC, HMP works like a hybrid car using a combination of a small energy saving engine and a high-performance engine depending on 'driver' demand at any given point in time," said Johan Lodenius, chief marketing officer for MediaTek.
Imagination believes implementing true heterogeneous multi-processor technologies is important in the area of mobile processor design. The company says it has demonstrated power savings in excess of 30% with 2x performance gain when PowerVR GPUs are used to augment the CPU compared to a CPU-only solution.
"Heterogeneous processing architectures represent the future of mobile and embedded SoCs. We have been working with MediaTek to advance their HMP technology on multiple fronts — as founder members of the Heterogeneous System Architecture (HSA) Foundation, on development of this new SoC, on future co-development and more," says Tony King-Smith, EVP marketing at Imagination.
"MediaTek's HMP implementation is a great example of how we see our partners using their unique expertise combined with our extensive GPU, CPU and SoC experience to differentiate their products."
Related news
PowerVR mobile graphics chips boosted by 16nm finfets