Qualcomm chipset targets 4G LTE in China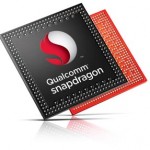 Qualcomm Technologies has introduced a Snapdragon 410 chipset with integrated 4G LTE World Mode targeting the China market.
Snapdragon 410 chipsets integrate 4G LTE and 3G cellular for all major modes and frequency bands across the globe and include support for dual and triple SIM.
The 28nm Snapdragon 410 chipsets, which will cost less than $150 in volume, integrate processors that are 64-bit capable. There is the Adreno 306 GPU, 1080p video playback and up to a 13 Megapixel camera.
The chipsets have support for Wi-Fi, Bluetooth, FM and NFC functionality, and support all major navigation systems - GPS, GLONASS, and China's new BeiDou.
Operating system support includes the Android, Windows Phone and Firefox operating systems.
Qualcomm Reference Design versions of the processor will be available to enable rapid development time and reduce OEM R&D, designed to provide a comprehensive mobile device platform.
The Snapdragon 410 processor is anticipated to begin sampling in the first half of 2014 and expected to be in commercial devices in the second half of 2014.

Related posts