RTOS development can be like Linux or Android, says ARM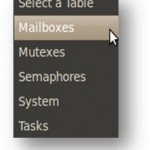 ARM has announced the availability of ARM DS-5 Development Studio version 5.16, adding debug and optimisation of embedded software based on real-time operating systems (RTOS).
It supports code generation, debug and performance analysis for any ARM Cortex processor, including the latest ARM Cortex-A50 series, running bare metal, RTOS or Linux-based software stacks.
"The DS-5 performance analyser for microcontrollers puts functionality previously only available for application processors running Linux or Android systems in the hands of RTOS users," said ARM.
Using standard trace technology available in nearly all Cortex-M3 and Cortex-M4 processor-based microcontrollers, the tool collects RTOS task activity, hardware performance counters, software events and samples of the program counter.
The DS-5 Debugger has been extended to include operating system awareness beyond Linux and Android, covering a range of popular RTOS that include Keil RTX, FreeRTOS, Freescale MQX, Micrium uC/OS-III and Express Logic ThreadX.
ARM will be demonstrating DS-5 Development Studio at TechCon on October 30th and 31st at the Santa Clara Convention Center in Santa Clara.
A free, fully featured 30-day evaluation is available for download.