Spreadtrum single-core ARM processor targets low-end smartphones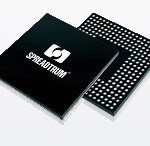 Spreadtrum Communications, the China-based mobile chip supplier, is targeting the low-end smartphone market which is now seen as the key high-growth smarttphone market.
Spreadtrum is using a single core Cortex-A5 CPU to keep design costs low  and it is in volume production of its SC7710 chipset.
"The mass market opportunity in smartphones is the entry level smartphone buyer, that is the consumer who is switching from a feature phone for the first time," said Dr. Leo Li, chairman and CEO of Spreadtrum Communications. "Our SC7710 chipset enables handset makers to design entry level 3G devices at very low cost."
The SC7710 supports WCDMA/HSPA+ and EDGE/GPRS/GSM standards, integrating a single-core Cortex-A5 CPU running at speeds up to 1.0GHz and a Mali 400 GPU for high performance graphics, and includes support for up to a 5 megapixel camera, 720p video and display resolution up to WVGA.
The SC7710 has been qualified by China Unicom and other global operators and is shipping in devices from China's smartphone makers, including one of the leading domestic smartphone providers.