CamdenBoss aims UK-made rack at home offices.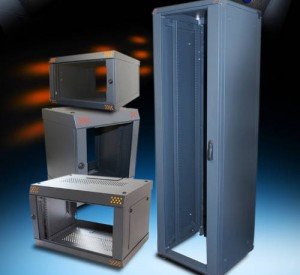 CamRack-SX SOHO is a series of 19in racks for small-office-home-office use.
Models are wall-mounted 7U high cabinets, with two mounting profiles and variable depth in 20mm increments.
Finished in dark grey anthracite, colour corner options are white, red, blue, orange and black, as well as yellow, green, purple, lilac and grey on request.
Features include fast fixings with 1/4-turn locks, tempered smoked safety glass front door, cantilever tray, and cable-entry options for top panels.
Cabinets are flat-packed for reduced logistics costs and greater protection during transit. Assembly is tool-free.
At the same time, it launched two other 19in racks: CamRack-WX and LX, in the same colours as SX cabinets.
WX racks are also wall-mounted and offer accessibility from front, rear and sides without tools.
Security comes from a single key-operated lock at the front blocking all access.
Heights are 6, 9, 12 or 15U; top and bottom cable entries offer 100 cable capacity; and recommended load is up to 40kg.
The cabinets are designed for installation and wall-mounting by one technician and are delivered assembled.
LX are floor-standing aluminium profile external structure cabinets with die cast high-resistance corners, four steel 19in sections adjustable in depths (gaps of 20mm), removable side panels with 1/4-turn locks, lockable steel rear doors, 1/4-turn locking ventilated top panels with cable entries, and four adjustable levelling feet.
Distributed load capacity is 1,000kg (static) or 300kg (dynamic) and a range of accessories is available including front guides, attachment sets, cable guides, cable clamps, clip-on support guides and wheel kits.
Assembly takes five minutes, claims the firm.