Supercapacitors see growth as costs fall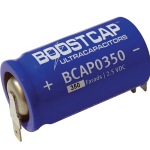 Supercapacitors, once a technological novelty, are now mainstream and showing significant sales volumes, according to Maxwell Technologies.
"We have shown now it's more than a new technology, the proof of concept is done," said Raphael Waeber, marketing and sales manager in Europe for Maxwell. "It starts to be a commodity business."
The biggest growth market will be automotive, claimed Maxwell. Electric vehicles and those using regenerative braking systems, such as buses and trucks, need the highest power and cycle life.
This has led Maxwell to split its product line in two: One family for high performance, another for cost. Devices in the latter family are aimed at products requiring back-up power, rather than continuous cycling.
"The biggest difference between the families is a lower internal resistance [in the high power devices]," said Waeber. This allows those devices to charge and discharge quickly, and without losing too much energy to heat.
Device capacities in the two families range from 320F to 2,600F at 2.7V.
Supercapacitors certainly seem to have moved into the mainstream. Maxwell recently won an order for 1.5 million units from Enercon, which is using the devices as power backup for wind turbine blades.
Meanwhile, General Hydrogen placed a large order for supercapacitors in fork-lift trucks.
This year, the cost of supercapacitors has reached 1 cent per Farad, or $2.85 per kiloJoule, claimed Maxwell.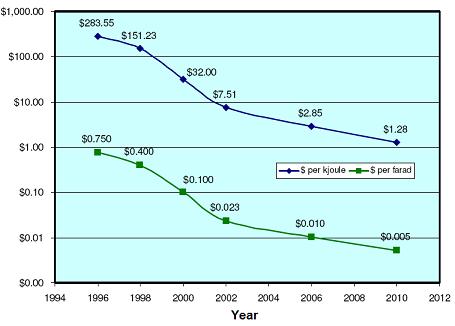 Costs have fallen quickly, with cost/kJ dropping faster than cost/Farad as
voltage are increased
     
The firm said prices should halve within four years, "but half a cent is a very tough target", Waeber pointed out. He said that predicting the price fall beyond 2010 was difficult, as the electrode technologies to go beyond 0.5cent are not yet known.
However, cost per kiloJoule will reduce more quickly, as the existing electrodes can be made to support higher voltages in the capacitors. By 2010 Waeber expects devices to be specified for 3V, bringing cost to $1.28/kJ.
"Beyond that we are targeting four or five Volts, but nobody knows how to do that yet," explained Waeber, mainly because the electrode technology does not yet exist for such devices.
UK spin-out gets supercapacitor funding
University of Southampton spin-out Nanotecture has received a Government grant to develop supercapacitors for hybrid vehicles.
The company is set to receive £376,000 from the DTI in the UK for a project entitled "next generation supercapacitors for hybrid vehicle applications".
The project also involves Johnson Matthey and HILTech Developments.
The project will use supercapacitor technology to improve hybrid electric vehicles and increase overall energy efficiency.