The MCUs have as standard up to 4Mbyte of high-density embedded flash, stepper motor control, TFT display control, advanced sound output capabilities and support for all in-vehicle networking standards required today for instrument clusters.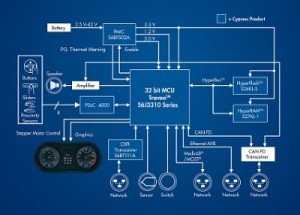 The MCUs will also support firmware over-the-air updates for software fixes and applications.
There is also a transceiver for the new automotive communication protocol called Clock Extension Peripheral Interface (CXPI), which is being proposed as the successor to the (LIN) automotive protocol.
The Traveo MCU's also support the higher speed CAN-FD automotive communication protocol for increased data bandwidth for faster networking.
CXPI was developed in Japan to support data multiplexing which is not so easy on the LIN bus. The aim os to make greater use of multiplexing of data signals to reduce the number of cables required in on automotive bus. This will potentially reduce weight and cost.
The S6BT11X CXPI transceiver series works as the interface between the CXPI datalink controller and the BUS line. S6BT11X can be used to enable ECU communication with speeds going up to approximately 20kbit/s. The transceiver also has a sleep/wake up control function for low noise and low power dissipation, enabling reliable and energy-efficient systems.
The Traveo S6J331X/S6J332X/S6J333X/S6J334X series MCUs are based on an ARM Cortex-R5 processor running at up to 240MHz.
MCU peripherals include a 16-bit audio-DAC, a multi-channel mixer and I2S interfaces for audio outputs. There is also an Ethernet AVB peripheral.