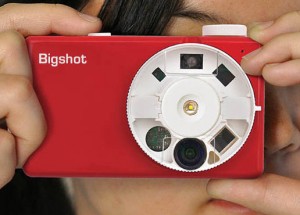 "We believe that a camera designed for education must have three features: First, it should be designed as a kit for assembly – putting the kit together should expose the user to a wide range of science concepts. Second, it should include features that cannot be found in other cameras, allowing the user to explore new creative dimensions. Finally, it should be low-cost, making it accessible to the less privileged," said Kimera, the social venture behind the camera. "A major goal of the Bigshot project is to exploit the engaging nature of cameras to draw young minds to science and engineering. In doing so, we are particularly interested in targeting children in under-served communities."
It was created by Shree Nayar, a Professor of Computer Science at Columbia University, who founded Kimera in 2011.
"He worked with a team of contractors to build the first set of working prototypes. He also worked with a group of gifted students on developing the first version of the educational website and field testing the initial prototypes," said the organisation.
Assembling Bigshot is intended to gove an insight into optics, mechanics, electromagnetism and electronics.
What is described as a 'Swiss Army' lens – allows regular, panoramic and 3D modes to be selected, and a hand generator charges an internal cell when more power is required.
So far the kits are not available in Europe.
The Bigshot project at Columbia was partly funded by a Google research award and an Office of Naval Research 'instrumentation grant'.