Carbon nanotube computer built at Stanford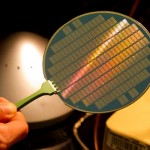 The first carbon nanotube computer has been built by Stanford University researchers. The machine uses 142 CNT-based transistors.
"This is a general computer and we can do anything with it," says researcher Max Shulaker, "it could in principle run 64-bit Windows, but it would take millions of years."
The computer can execute 20 instructions from the MIPS instruction set.
'Here we demonstrate the first computer built entirely using CNT-based transistors,' say the researchers, 'The CNT computer runs an operating system that is capable of multitasking: as a demonstration, we perform counting and integer-sorting simultaneously. In addition, we implement 20 different instructions from the commercial MIPS instruction set to demonstrate the generality of our CNT computer. This experimental demonstration is the most complex carbon-based electronic system yet realised.'
The carbon nanotubes were fabricated in one micron process technology.