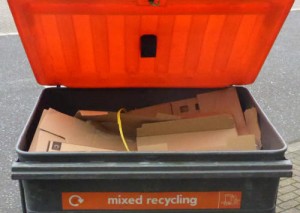 White-space radio – branded 'Weightless' – is low-power communication in unused TV channels. Propagation and penetration at these frequencies is good, although measures have to be taken to protect against clashes with locally-active TV.
The Neul/FarSite system is point-to-multi-point, with a white-space basestation-to-node down-link, and 458MHz ISM band node-to-basestation up-link. Cambridge-based Neul is providing the radio links – this is the first application for what it has branded NeulNET. Basingstoke's FarSite is creating a cloud-based service to collate and use node data.
The bin emptying system is to be called 'netBin', in which battery-powered detectors from FarSite, mounted in bin lids, send back data indicating how full the containers are. This data is analysed by computers to determine which bins are about to be full, and plan a driving route for the collection vehicle.
"Every collection is optimised, staff productivity is improved and the environmental problems of overflowing bins are eliminated," said FarSite. "The product is aimed at local councils and commercial waste handling companies."
This requires there to be an existing Weightless network.
Late in May, Milton Keynes Council announced it will install a city-wide open-access Weightless demonstration network for M2M and Internet of things (IoT) applications.
Open University (based in Milton Keynes), the Connected Digital Economy Catapult and The Future Cities Catapult UK catapult, are also in the Milton Keynes consortium.
"The project will demonstrate the ability of a city-wide M2M infrastructure to cope with a large number of static and mobile sensors. Some of these will support use cases for Milton Keynes council, but the mission for the project is to attract many other innovators to use the infrastructure as a test bed for commercial applications which need not be specific to Milton Keynes," said Neul at the time, which is working with BT to install the network.
The two Catapults will deploy "large numbers", said Neul, of IoT sensors over the Milton Keynes project's eighteen month span as well as provide different business models.
Back with FarSite and Neul, "We have been working with Neul for over two years to develop connected products", said FarSite sales and marketing director Steve Scott.
Alongside netBin, FarSite will be working with other companies develop products and services connected by NeulNET.
Initially, Scott told Electronics Weekly, Ofcom will provide geographically-related static allocations of unused TV channels to white-space operators. These are only expected to change infrequently as the TV network is adjusted. Eventually Ofcom will have a dynamic database which will actively be polled by Weightless networks for channel allocations.
FarSite's fullness sensor incorporates Neul's NT1001 radio module, plus an ultrasonic depth sensor, and is expected to work for 10 years before needing a battery change – using lithium-iron (not lithium-ion) primary cells.
According to Scott, every sensor is allocated a time slot in a two second NeulNET cycle – which remains allocated to the node for years. Nodes will sleep most of the time, waking periodically (once a day is most likely, but adjustable down to once an hour) to operate the sensor and turn on its receiver.
Once the node's slot it detected, its transmitter sends out its data. In this way the node is on for a maximum of four seconds and the rest of the time is in pA sleep.