Satellite navigation in phones is really starting to take off. The first mainstream sat nav phone in Europe, the Nokia N95, has shown up some of the problem with the technology with large downloads of maps and long times to find a location.
While phone makers are all looking to add GPS to a phone, sat nav maker Garmin has added a phone to its system to launch the nüvifone. This quadband 3G touchscreen phone includes a Location Message Service (LMS), which tags every location with the exact latitude and longitude reference of where an image was taken using the camera in the phone, and the user may then save the image so they can navigate back to the location, or email the image to a recipient who can navigate directly to the location.
In addition, the nüvifone provides direct access to millions of geo-located landmark and sightseeing photographs available through Google's Panoramio picture sharing site.
This has all needed new embedded software, developed by Garmin. But other phone makers are all demonstrating a key trend at the show, Google's phone software, codenamed Android. Using open source software and the Linux operating system, this provides the same browsing experience on a phone that you get on a PC, so the demos all include Google Maps and Google Earth.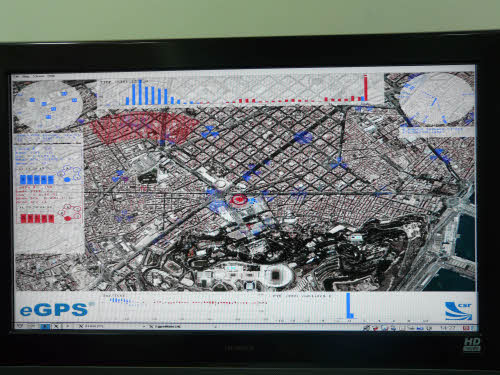 Many major chip makers – Texas Instruments, Renesas, Qualcomm and Broadcom – were showing an Android demo on their new chips, as was new entrant Nvidia on its 3D applications processor.
While Android is not specifically GPS software and just needs a data link, tying the GPS data into Google Maps could be a cost effective way of delivering navigation services. It also makes application development for a wide range of location-based services much easier without having to rely on the network operator or the handset vendor, and so also opens up the possibility of small 'widget' applications that make use of the GPS data.
All of this has got the market excited. "Advances in GPS chipset development will significantly facilitate the low-cost integration of GPS technology and by 2013, we can expect to see more than 900 million GPS-enabled devices in the market," says Dominique Bonte, principal analyst for Telematics & Navigation at ABI Research.
"NXP believes that location-based services are the next killer application in wireless," says Dennis Kish, senior v-p in the mobile business unit at NXP Semiconductors, which last year acquired the Glonav GPS business of IP supplier Ceva.
This is being backed by new technologies to reduce the power of the GPS implementation.
Cambridge Silicon Radio launched eGPS at the show to reduce the power consumption by reducing the time to first fix (TTFF). This can take several minutes with a standalone GPS and even up to 60s for the assisted GPS systems in Europe which take the satellite data from the network. Instead eGPS acquires more timing information from the phone to get a wide area fix on the location, and so gives a quicker time to first fix of 4 to 6s. This reduces the power consumption by half and will allow more location-based services to be developed as a map of around 100m accuracy can be pulled up immediately and this is often enough, says Joep van Beurden, CSR CEO.
CSR is working with Motorola particularly on the technology and will open it out to the wider market next year.
Swiss start-up NemeriX is also looking to reduce the power of GPS, providing a platform where designers can choose a SiGe or a CMOS RF to go with the CMOS baseband, but maintaining all the software.
"The latest GPS technology is putting navigation into the palm of mobile consumers' hands, however, pedestrian navigation requires a fundamentally different approach from today's vehicle GPS solutions – and a totally new level of accuracy and technical expertise," says Lew Boore, v-p of marketing at NemeriX. "This will be the key to integrating GPS solutions into mobile handsets that successfully deliver on consumer expectations."
NXP Semiconductor, through its acquisition, has also launched a 90nm single chip solution and integrated it into its Nexperia 7210 for 3G handsets. Power management modes reduce power consumption to less than 13mW for one-second map updates and the package is less than 9mm2.
Swindon start-up Air Semiconductor is also targeting ultra low power GPS, initially standalone in cameras for the same geo-tagging applications but it is also working on a device for cell phones, using the same low power technology.
This keeps a less accurate location fix available all the time without having to use the network data, and then targets into the exact location when the button is pressed. This reduces the power by a factor of up to 100 to 1mW, says Stephen Graham, CEO.
Qualcomm has had GPS with its CDMA handsets in the US for years and is bringing that technology to Europe in its 3G high speed data chipsets and its Snapdragon chips for the consumer market. The new ARM11-based QST1000 family integrates the wireless connectivity, its seventh generation multi-mode GPS positioning, applications processor and support for DVB-H and MediaFLO broadcast mobile TV for portable media devices. The first commercial devices are sampling now and are expected to begin launching later this year.
"Qualcomm is quickly moving a step beyond cell phones and gaining strong customer traction in the consumer electronics market with solutions for the next evolutions of today's most popular consumer electronics," says Luis Pineda, senior v-p of marketing and product management for Qualcomm CDMA Technologies.
"We are broadening our product portfolio for non-traditional wireless devices and accelerating the evolution of personal navigation and entertainment gadgets."
Arch rival Broadcom is also aiming to integrate GPS satellite navigation into its combination chips after the acquisition of chip maker Global Locate in July last year.
"GPS is fascinating and will become quite pervasive in all portable devices, and the cost of GPS is coming down rapidly" he says. "The chips will not just be GPS but combo chips and that way we get very very good integration. It's such a sensitive receiver that if you pre-integrate some of the other radios you solve a lot of the problems of our customers."
Garmin's Nuviphone hits the streets in the third quarter, and Android still has a way to run to be accepted in the industry, mainly by the operators. Vodafone chief executive Arun Sarin has been negative on the technology as it potentially cuts Vodafone out of the income from those services. But the generation of phone for 2009 being designed with TI's OMAP3 or Nvidia's AXP2500 will certainly support Android and provide a key platform for embedded, GPS-enabled applications.