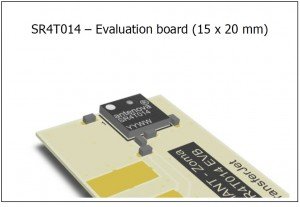 TransferJet is a wireless technology for high-speed (375Mbit/s) transfer of large files, secured by proximity – think fast NFC.
It operates in the unlicensed bands in places including the USA, Europe and Japan.
Antenova's device is a surface-mount coupler called Zoma that operates in the 4.48GHz band over a few centimetres.
Embedded World 2016: Get the full Electronics Weekly guide »
There is an evaluation board (100 x 100mm), developed with UK partner Icoteq, with a Freescale's iMX6 quad core processor.
"The demonstration will show how consumers can use TransferJet to share multimedia content they have created in real time between devices such as cameras, camcorders, smartphones, digital video recorders, TVs, video game consoles and printers," said Antenova. "It also has applications in digital signage, industrial and public information displays."
Antenova is a member of the TransferJet consortium.
It is also showing additions to its FlexiiANT range of flexible foldable peel-and-stick antennas for WLAN, ISM, Cellular/LTE and GNSS, and other aerials for the same markets including low-profile Sinica GPS, GLONASS, Baidou and Gallileo at 1,559-1,609MHz, and Asper which covers that band plus 2.4GHz-2.5GHz.