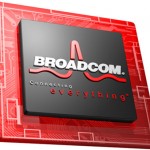 According to Broadcom, millimeter wave technology has the high speed data rate potential to address capacity challenges in mobile backhaul network infrastructure.
Take the Electronics Weekly UK Salary Survey 2014 »
Broadcom's BCM85100 SoC is data rate scalable and upgrades by software, covering a few Mbit/s to 10 Gbit/s data channels over single antenna, single channel and single polarization.
Signal modulation is up to 256QAM and channel bandwidths are up to 2GHz.
According to Dan Charash, Broadcom senior director and general manager of microwave: "With our new single chip MWW product, Broadcom is delivering a cost-effective solution carriers require to backhaul macro cells, small cells and cloud RAN to the core network."