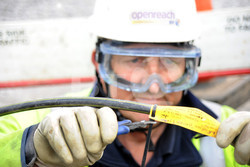 According to BT, this is the fastest speed ever achieved in commercial grade hardware in a real-world environment and is equivalent to transmitting 44 uncompressed HD films in a single second.
Working with network supplier Alcatel-Lucent, BT carried out the data tests over an existing 410km fibre link between the BT Tower in London and BT's Adastral Park research campus in Suffolk.
The tests were performed using production equipment that was software reconfigurable between 200Gbit/s using 16 QAM modulation and 100Gbit/s using QPSK modulation.
It used a technique, called 'flexible grid' infrastructure, which varied the gaps between transmission channels, usually set at 50GHz. By increasing the density of channels on the fibre, this approach achieved up to 42.5% greater data transmission efficiency compared to today's standard networks.
BT believes this will allow it to scale its core network capacity to meet demand for more bandwidth-hungry services such as streaming video.
"This outstanding achievement demonstrates that BT can easily introduce new features and technologies across our core network maximising the efficiency of our existing infrastructure," said Neil J. McRae, chief network architect at BT.
"Working with Alcatel-Lucent on this trial has been highly productive in demonstrating the viability of an alien wavelength approach," said McRae.
The trial was conducted through the overlaying of an "Alien Super Channel" comprised of seven 200Gbit/s channels bundled together to provide a combined capacity of 1.4Tbit/s.
By reducing the spectral spacing between the channels from 50GHz to 35GHz using the 400Gbit/s Photonic Services Engine (PSE) technology on the 1830 Photonic Service Switch (PSS), spectral efficiency is enhanced by almost 43%.
The 1830 PSS can be used as an optical extension shelf of the 7750 Service Router (SR) and the 7950 Extensible Routing System (XRS). Flexgrid is the key to creating high-capacity, spectrally efficient super channels. The super channel is "alien" because it operates transparently on top of BT's existing optical network.
"BT and Alcatel-Lucent continue to work together to use innovation from Bell Labs, Alcatel-Lucent and BT Research and Development to move the industry forward and meet the ever evolving needs of the marketplace," said  Cormac Whelan, CEO, Alcatel-Lucent UK & Ireland.