"HomePlug AV is used in set-top boxes in Europe and is starting in the US," Greenvity CEO Hung Nguyen. "Any lighting system needs to be interoperable with set-top boxes. HomePlug Green PHY co-exists and inter-operates with HomePlug AV."
Called GV7013, it can be used at either ends of a mains-based control link, bridging SPI, UART or I2C onto mains wiring from the controller, and recovering SPI, UART, I2C, as well as generating 3xPWM waveforms for colour tuning, at the controlled end.
GV7013 will also interoperate with IEEE P1901-based products such as
home gateways and routers, said the firm.
Up to 9.8Mbit/s is available, using OFDM between 2 and 30MHz.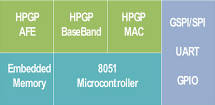 Intelligence comes from an on-die 8051 microcontroller, whose functions are called through an API, and both AES-128 encryption and decryption are integrated.
Power and data tranception is through an external 240V or 110V to 3.3V transformer, and a 24MHz crystal is needed.
Power, according to Nguyen, averages at around 200mW as the chip spends most of its time in 10mW sleep.
The package is an 11x11mm 100pin QFN, which Nguyen insists can be integrated inside LED, and also be used in control panels.
Operating temperature range is -40 to +85°C.
At the controller end, the firm has a gateway reference design that combines the 7013 with a Wi-Fi chip and an ARM microcontroller to route lighting control commands from an iPad or iPhone into the mains.
There are also reference designs for the controlled end, interfacing the chip with an LED driver.
Applications are also expected communicating with solar micro-inverters, said Nguyen.
The firm has two other products, both also bridges to mains-based HomePlug Green PHY. All three exist as sample silicon, said the firm's European sales director Stewart Gebbie.
GV7011 is intended for smart meters, industrial control, and consumer applications.
It bridges ZigBee, Ethernet 10/100, SPI and UART onto the mains.
The third chip, 7012,  is intended to control the charging of electric and hybrid vehicles.
Similar to the 7011, but without ZigBee, is comes in a package with 0.5mm spacing to help it meet the , energy management, industrial and consumer applications, and the AEQ100 automotive standard.
GV7013 at a glance
Operation       1.2/1.8/2.5/3.3V
-40 to +85°C
Spectrum        2-28MHz
Receiver gain  -18dB to +48dB
Modulation     OFDM
Data Rate       10Mbit/s max
MCU             8051
Security         AES-128 encrypt/decryption
Memory         256kbyte code RAM
48kbyte data RAM
Interface        GSPI for lighting
SPI for serial flash
GPIO            4(GSPI)/3(SPI)
Package        11x11mm, QFN