Spelling out GNU and Linux stories
"The raw data will be collected by a small fleet of car-mounted nodes over a number of months to further populate the UK-wide spectrum utilisation database," said CRFS. "Phase one is scheduled for completion by 31 December 2008."
As part of the project, it will also provide data analysis tools and host an industry day to get feedback from mobile phone operators, broadcasters, wireless broadband providers, government agencies and other stakeholders.
"It is difficult to be sure that we are optimising the use of the spectrum without information on its usage and quality in different parts of the country and across different frequency bands," said Gary Clemo, R&D manager at Ofcom.
CRFS will use its own RFeye real-time spectrum monitoring system.
This is a GPS-based distributed interference measurement system where each node is a real-time spectrum analyser.
"RFeye is significantly less expensive than existing specialised monitoring systems and provides considerable improvement in quality and functionality when compared to similar products," claimed CRFS CEO Alistair Massarella.
Founded in 2007 by Massarella and chairman David Cleevely, RFeye is the company's first product.
Each node can be tuned to a frequency between 10MHz and 6GHz and detect frequency data in real time. Intelligence comes from an embedded Linux processor with FPGA-based DSP acceleration.
Secure backhaul is available over TCP/IP using WiFi, DSL, Ethernet and local bulk storage with USB or solid RAM states.
See also: Electronics Weekly's Focus on Ofcom, a roundup of content related to the UK communications regulator, and also a related focus on wireless technologies.< br />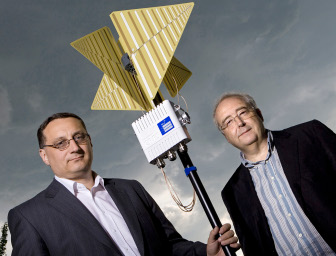 Cambridge Radio Frequency Services is to survey the UK's radio environment for Ofcom. The company designs and builds its own test equipment, pictured, and will be installing it in cars that will be driven around the country. In the picture, either side are CEO Alistair Massarella (left) and chairman David Cleevely.
Slicing and dicing the
spectrum of wireless
technology