CSR creates "paper-like" wireless keyboard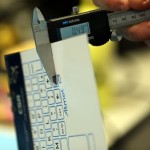 CSR says it has developed a reference design for the world's thinnest wireless touch interface.
It is a flexible touch keyboard with a low power Bluetooth wireless interface to connect to tablets and other mobile computers. It is less than 0.5mm thick.
CSR worked with Atmel to provide the touch controller and Cambridge-based Conductive Inkjet Technology (CIT) created the laminated touch surface.
The combination of the Bluetooth transceiver which draws just 22µA with the Atmel 1664 touch controller offers a wireless keyboard with a battery life of weeks on a lithium-ion cell. "We have also demonstrated a simpler system using a lower power touch controller which has a potential battery life of years," said Paul Williamson, director of Low Power Wireless at CSR.
The flexible membrane is enabled by CIT printed conductors. CIT's reel-to-reel printing process enables copper and other conductors to be applied to the surface of the ultra-thin and flexible membrane, and can be printed to fit a range of tablet shapes and sizes.
The wireless interface is provided by a CSR1010 Bluetooth Smart IC. It connects to iOS7 mobile devices and Windows 8 PCs.
"The design takes advantage of the GATT profile which means that Bluetooth Smart has been optimised for an app store world," said Williamson.
CSR's ultra-thin touch surface will be unveiled to customers for the first time at IFA Berlin (Hall 1.2 Stand 104) from 6-11 September 2013.
Video demonstration of the world's thinnest wireless keyboard