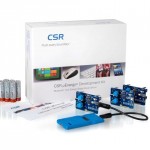 The company's goal is "to place the smartphone at the centre of the Internet of Things" because Bluetooth Smart is implemented by default on all the major mobile platforms.
The CSRmesh protocol itself was launched in February 2014 and allows for a large number of Bluetooth Smart-enabled devices to be networked together and controlled from a smartphone or PC.
Bluetooth Smart is used to send messages to other devices in the network, which in turn can relay them onward. Note that individual devices or groups of devices can be addressed. Devices can also belong to multiple groups.
Possible uses? Imagine controlling a series of lights within a large single area, such as a conference hall or an event space. You might, for example, control individual lights or set different colours for different areas of the room such as front, middle and back, on the basis of grouping.
Think of it as a hub-free Bluetooth Smart answer to ZigBee.
The SDK comes with software supporting networked lighting applications, with CSR promising updates for home automation and other IoT applications based on CSRmesh later in the year.
The configuration and control protocol works with CSR's Bluetooth Smart devices, such as the CSR101x family
"We are seeing Bluetooth Smart underpinning many more products as the Internet-of-Things shifts from concept to reality," says Rick Walker, Marketing Manager for IoT at CSR.

"By launching the CSRmesh Development Kit we are equipping developers with the tools they need to innovate and take advantage of the many opportunities offered by the IoT. We are helping them to bring networked devices to market as quickly and simply as possible."
The CSRmesh Development Kit includes:
3x CSRmesh Bluetooth Smart development boards
1x USB programmer
Batteries
Setup Guide with example applications
Available from distributors, the kit costs £175 and additional CSRmesh development boards can be purchased, for fuller mesh effect testing.
"Unlike other home automation connectivity solutions, such as Zigbee or Z-Wave, CSR Mesh ensures direct control from mobile devices anywhere in the home, because it doesn't have a limited range or require a hub," said Anthony Murray, Senior Vice President, Business Group at CSR, back in February.

"CSR is committed to driving Internet of Things innovation. We believe this Bluetooth Smart solution will be a real game changer for developers because it means they don't have to turn to proprietary solutions or add anything else to create products that give consumers what they want – complete home automation they can control from anywhere that 'just works'."
More information on the CSRmesh Bluetooth Smart development kit can be found at forum.csr.com and WiKi.csr.com.
See also: Metro-area wireless trial links 99.3% of smart meters