Ericsson develops tiny basestation that fits in the hand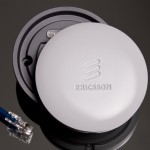 Ericsson has introduced its smallest mobile phone basestation, which is small enough to fit a person's hand.
The disk-shaped Ericsson Radio Dot System, is designed as a radio booster system, which uses an new design of antenna and supports broadband radio channels for in-building newtworks.
The basestations are connected and powered via standard internet LAN cables (Category 5/6/7) to indoor radio units that link to a basestation.
Radio Dot System leverages the same industry-leading features found in Ericsson's macro base station.
The aim, said Johan Wibergh, head of Ericsson Business Unit Networks, is to "lower the (cost) threshold to building indoor coverage".
The product is expected to be commercially available by the end of next year.