There are Entrepreneur and Enterprise editions for the kits which are described as "flexible and cost-effective gateways to developing intelligent building products for hospitals, homes, airports and other venues".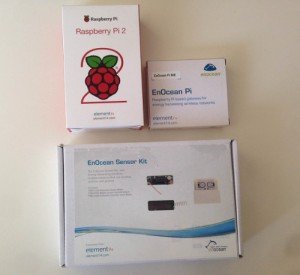 The Entrepreneur kit includes EnOcean self-powered sensors, a Raspberry Pi and EnOcean Pi boards from element14. It also provides access to the IBM Watson IoT Platform and Bluemix services from IBM.
Embedded World 2016: Get the full Electronics Weekly guide »
The Enterprise kit, without a Pi, includes EnOcean OEM self-powered sensors and EnOcean Gateway from element14, as well as access to IBM's Watson IoT Platform and IBM TRIRIGA facilities management software.
"The possibilities of the Internet of Things are huge and will take intelligent buildings to the next level of energy-efficiency, security and comfort," said Andreas Schneider, Chief Marketing Officer, EnOcean.

"We are combining field-proven energy harvesting wireless sensors with the IBM Watson IoT Platform for a smart, cloud-based solution that provides new forms of automation. It's great that element14 is opening these capabilities to developers and companies with two customised kits for an easy start into the world of the self-powered IoT."
"In our increasingly digital world Farnell element14 is committed to pushing the boundaries of today's electronics landscape, and the Entrepreneur kit and Enterprise solution are confident steps in the right direction," said David Shen, Group Chief Technology Officer, Premier Farnell.

"By joining with EnOcean and IBM, we hope to enhance and broaden today's IoT landscape and lay a sound framework that inspires future innovations."
Both products are expected to be available early April from Farnell element14.